English Thoughts | When You Do A Good Job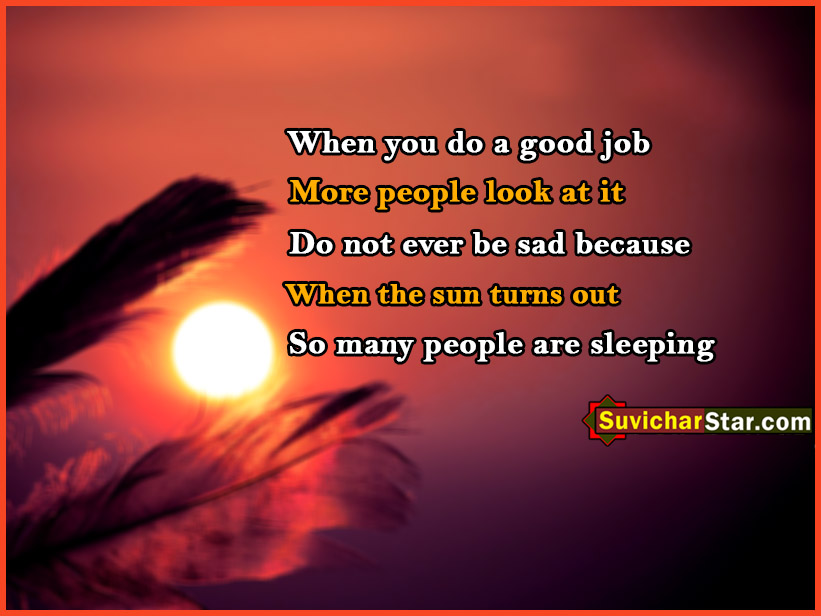 English Thoughts
When you do a good job
More people look at it
Do not ever be sad because
When the sun turns out
So many people are sleeping
Once upon a time a psychology professor
walked around on a stage while teaching
stress management principles to
an auditorium filled with students.
Motivation Thoughts
Your subconscious is responsible for over 90% of all decisions in your life. While a lot of your subconscious beliefs are ingrained at an early age you can reshape your beliefs. With positive self-talk and creative visualization, you can train your subconscious to be your greatest ally and create the future you deserve.
Your subconscious can be your greatest barrier or your greatest ally. You must choose what you want it to be. Then work to mold it to be one of these.
The next ship was the Californian. This ship was only 14 miles away from the Titanic, but they were surrounded by ice fields and the captain looked out and saw the white flares, but because the conditions weren't favorable and it was dark, he decided to go back to bed and wait until morning. The crew tried to convince themselves that nothing was happening. This ship represents those of us who say I can't do anything now. The conditions aren't right and so we wait until conditions are perfect before going out.
The last ship was the Carpathian. This ship was actually headed in a southern direction 58 miles away from the Titanic when they heard the distress cries over the radio. The captain of this ship knelt down, prayed to God for direction and then turned the ship around and went full steam ahead through the ice fields. This was the ship that saved the 705 survivors of the Titanic.